Sidebar
KETO CHICKEN POT PIE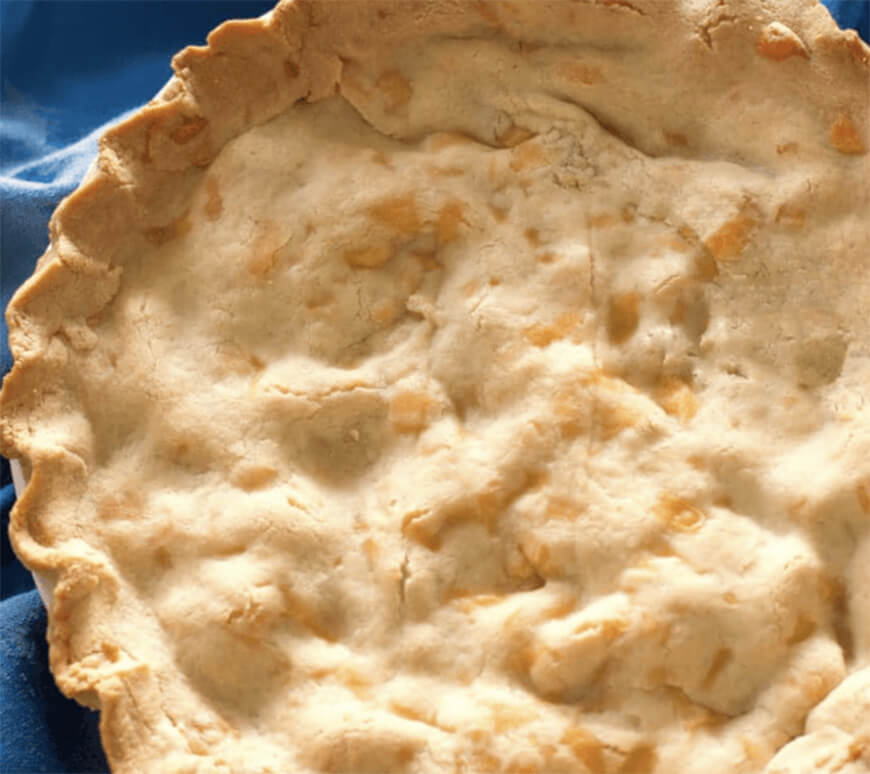 Crust:
Filling:
Instructions
Preheat oven to 375 degrees and spray a 9-inch pie plate with cooking spray.
Crust: In a large bowl, mix together the almond flour, 6 tablespoons of softened butter, egg, salt, and seasoning by hand or with a mixer. Once combined, you can stir in the shredded Cheddar Cheese.
You'll have a sticky dough, ready to divide and roll out. Go ahead and divide dough your Chicken Pot Pie curst dough in half. Place one ball of dough between two pieces of parchment paper (you can spray parchment paper with cooking spray so it doesn't stick to the dough. Place the dough on the paper with the sprayed side on the inside).
Roll curst dough into a circle. The size of a pie plate is recommended but you can even make mini pot pies using smaller pans.
Repeat the above step with the other ball of dough with the remaining two pieces of parchment paper.
Place the rolled dough in the fridge for about 5-10 minutes. (leave in parchment paper)
Once the dough has chilled, you can place one piece of dough into the bottom of a pie pan. Press the dough to make sure it covers the entire bottom of the pan.
Bake the bottom layer for 6-8 minutes.
While the crust is baking you can start on the filling portion of this recipe.
For the filling, melt 2 tablespoons of butter over medium heat and add the celery and onion as well as seasoning to taste. Sauté this veggie mixture over medium heat for 5 minutes or until veggies have softened. Add the chicken broth, cream cheese, and heavy cream and heat over medium heat, whisking until smooth. While mixture is combining add the garlic powder, poultry seasoning, celery seed, and more salt and pepper to taste.
Once mixture is combined reduce heat to low and sprinkle xanthum gum over the mixture and whisking in quickly. Keep stirring until mixture thickens. You can add more to thicken or more cream to thin out to your desired thickness.
BLOG:
Who doesn't love a delicious Chicken Pot Pie, am I right?! This Ketogenic Chicken Pot Pie is going to give you all those warm fuzzy feelings inside, and you'll use it for years to come! Be sure to bookmark this page and share the link with your friends and family, too!
The taste of the crust of a good Chicken Pot Pie is crucial to the entire recipe. So, we created a crust recipe packed with tons of flavor and buttery, cheesy, goodness! The best part is, the crust is super easy to make, and just takes a few minutes to pre-bake.
You can make one large Chicken Pot Pie with this recipe, or use it to make a bunch of tiny Chicken Pot Pies for your children, friends, or loved ones (or all of the above). You can also multiple the ingredients as needed, to make these in bigger quantities. You can freeze whatever you don't use!
I don't know about you, but I enjoy a good Chicken Pot Pie pretty much any day of the week, and during anytime of year. It's just one of those staple recipes that you should always keep on hand.
Get your kids or significant other involved in the baking process to build lasting memories! This is a super quick and easy recipe that kids would love to help with… especially mixing and rolling out the Chicken Pot Pie crust.
This recipe is jam packed full of tasty ingredients that are healthy for you and perfect for your Keto Diet! So, let's dive right in…