Sidebar
Keto Cranberry Sauce and Cranberry Muffins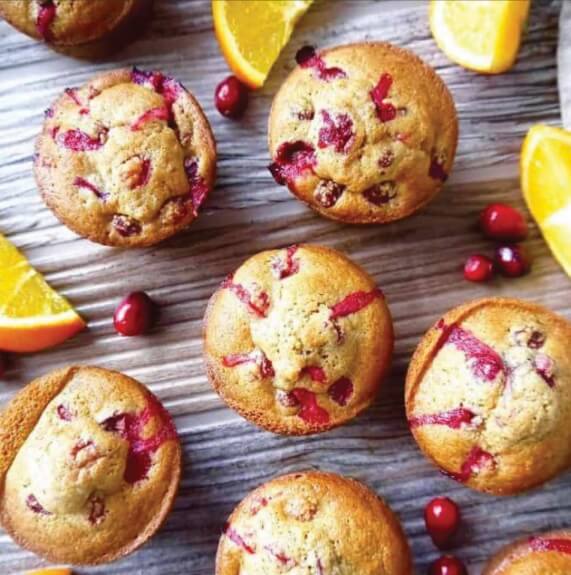 HOME COOKING
Keto Cranberry Dishes Perfect for Holidays
We like cranberries all year round both for their beautiful color, delicious flavor and health benefits. Fresh cranberries are low in carbs, high in fiber and have been linked to lowering blood pressure and boosting the immune system. Fresh cranberries are considered keto, and in moderation, add pizzazz to your keto diet since they are 87%-90% water. Best of all, you don't have to go to a bog to bring them home; just order them from Coast Brothers along with these other healthy ingredients.
Here are two keto-friendly recipes for the holidays, both turkey and vegetarian friendly. We like the Keto Cranberry Sauce served over mashed cauliflower or keto vegan stuffing.
Keto Cranberry Sauce:
1 (12 ounce bag) fresh cranberries
1 cup water
½ cup sugar substitute
2 tsp. orange zest
Pinch Kosher salt
In a medium saucepan, put cranberries, water, sugar, orange zest and salt and bring to a boil. Reduce heat to simmer, stirring frequently, until cranberries are mushy, approximately 10-12 minutes. Serve at room temperature or chill in a covered dish
Keto Cranberry Orange Zinger Muffins
Ingredients
2 ½ cups sifted almond flour

2 cups granulated sugar substitute

2 cups fresh whole cranberries

2 tsp. baking powder

½ tsp. sea salt

½ tsp. orange zest

¼ tsp. cinnamon

8 eggs

8 oz. cream cheese

8 oz. cream cheese

1 tsp. orange extract

½ cup unsalted butter
Instructions: Pre-heat oven to 350 degrees. Using an electric mixer and a large bowl, combine cream cheese and butter; beat on high until fluffy. Add the sugar substitute and continue mixing. Add the whole eggs one at a time. Stir sifted almond flour, salt, baking powder, cinnamon, orange zest, orange extract and mix well. Fold in whole cranberries and mix well. Pour batter into cupcake-liner muffin tins (2). Bake for 20-25 minutes or until toothpick comes out clean. Serve warm.
Give Back During The Holidays With Coast Brothers: It's canned food season, so why not donate food for a needy family? In recent years, Coast has partnered with Charity Works to distribute food, snacks and FEMA blankets. This year, we are partnering with an organization that packs backpacks for the homeless.
About Coast Brothers: Founded 30 years ago, Coast Brothers is a family-owned business and one of the leading online wholesale sites for more than 1,000 high-quality bulk items like household essentials, food, beverages, and commercial products delivered right to your door. Winner of the Tampa Bay Beaches Chamber of Commerce 2020 Business Impact Award, find all your home and office needs at www.coastbrothers.com.