Sidebar
Keto-Friendly Irish Brownies with Cream
Gluten Free, Grain Free, Keto Friendly, Low Carb, Wheat Free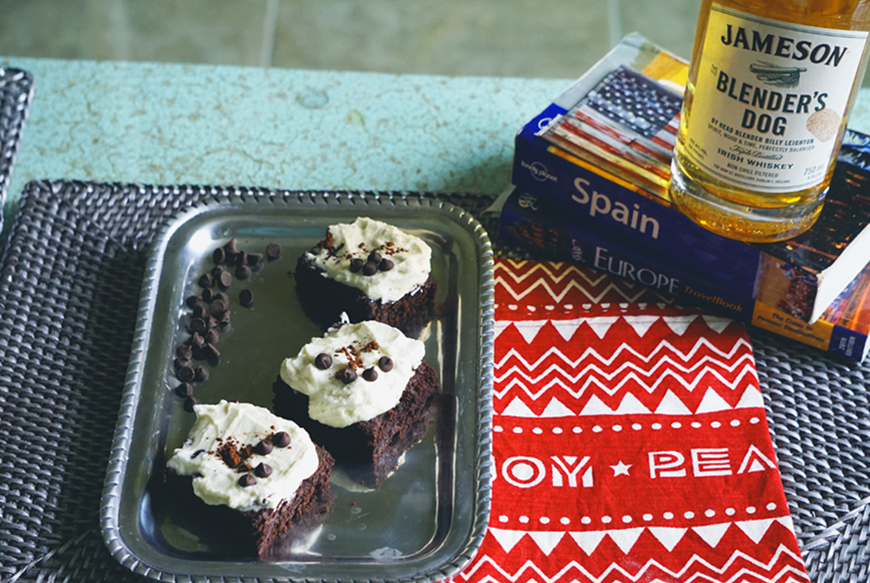 4 oz. Philadelphia Cream Cheese, softened

4 tbsp. Irish Butter, softened

3/4 cup Low Carb Granulated Sweetener

4 tbsp. Ghirardelli Cocoa Powder

1 tsp. Cacao Nibs

2 tbsp Jameson Irish Whiskey

2 Eggs

1 1/2 cups Almond Flour

1 tsp. Arrowroot Starch Flour

1 tsp. Baking Powder

¼ cup Lily's semi-sweet baking chocolate chips

1 cup Heavy Whipping Cream

1/4 cup Powdered Low Carb Sweetener Can Be Monkfruit

1 tsp. Cacao Nibs

1 tbsp. Jameson Irish Whiskey

Handful Lily's semi-sweet baking chocolate chips
Instructions
Preheat the oven to 350 F and grease a brownie pan.
In a mixing bowl, combine softened cream cheese, softened butter, your choice of low carb sweetener (Stevia sweetener is a great choice), Ghirardelli cocoa powder, cacao nibs, and Jameson whiskey together until smooth.
Next, mix in the eggs one at a time. Then, mix in the remaining dry ingredients - almond flour, baking powder, arrowroot starch flour, and Lily's semi-sweet baking chocolate chips.
4.Once thoroughly mixed, pour the batter into the brownie pan. Spread the batter evenly throughout the pan and bake for 20-25 minutes. To determine if the brownies are ready, use a toothpick to check the center. If the toothpick comes out clean, but you still aren't sure, remember the brownies will still continue to bake a bit based on the internal temperature. What you want to avoid is overbaking them or drying them out. Remove the brownies and let them fully cool before frosting.
To make the Irish cream whipped cream, beat the heavy cream in a bowl until soft peaks form. Add your choice of powdered sweetener, cacao nibs, and Jameson whiskey. Then, mix until stiff peaks form. Use a spatula to spread the whipped cream over the top of the cooled brownies. Sprinkle with cocoa powder and Lily's semi-sweet baking chocolate chips if desired. Cut into 16 squares. Store in the fridge.
If you want to make regular brownies, omit the cacao nibs and whiskey and add in a teaspoon of vanilla instead.
Nutrition Information:
YIELD: 16
SERVING SIZE: 1
Amount Per Serving:

CALORIES: 191
TOTAL FAT: 17g
SATURATED FAT: 7g
TRANS FAT: 0g
UNSATURATED FAT: 8g
CHOLESTEROL: 55mg
SODIUM: 89mg
CARBOHYDRATES: 5g
NET CARBOHYDRATES: 3g
FIBER: 2g
SUGAR: 4g
PROTEIN: 4g